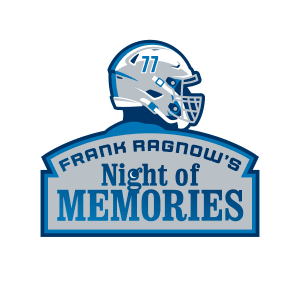 Frank Ragnow's inaugural Dine with the Pride – July 21, 2022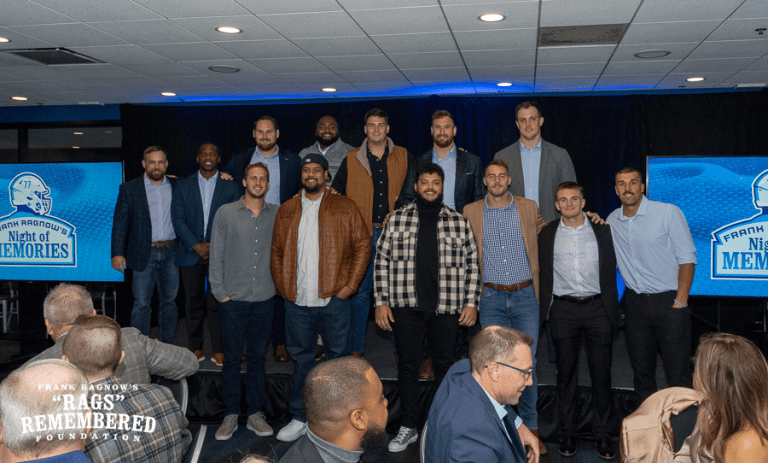 DETROIT LIONS CENTER, FRANK RAGNOW RAISES OVER $170,000 AT HIS 'NIGHT OF MEMORIES' GALA AT FORD FIELD
"It's cool to see so many people here tonight to celebrate our mission and honor my dad." – Frank Ragnow
DETROIT, MI (November 8, 2022) – On Monday night, Frank Ragnow and his Detroit Lions teammates hosted over 120 guests inside Ford Field's Hall of Legends to raise funds for Frank's charitable foundation, The Rags Remembered Foundation. Frank was joined by his teammates Obinna Eze, Tommy Kraemer, Logan Stenberg, Matt Nelson, Halapoulivaati Vaitai, Jonah Jackson, Shane Zylstra, Brock Wright, Tom Kennedy, and Jared Goff. Also in attendance were Detroit Lions coaches, Josh Schuler and Morris Henry.
Frank's 'Night of Memories' event raised over $170,000, with net proceeds going towards Frank's 'Camp Huddle Up' in June 2023. The camp will host local children ages 5-18 who are grieving from the loss of a parent or loved one to an outdoor grief camp with Frank for the day. The remaining proceeds will go towards Frank's 'Fishin' for Memories' program in 2023.
Guests of the 'Night of Memories' event started their evening enjoying an open bar cocktail hour with some of their favorite Detroit Lions players –taking pictures, getting autographs, bidding on silent auction items, playing games, and enjoying the tunes of DJ Rayyadig; the Detroit Lions official DJ.
After the cocktail hour, guests were seated in the Hall of Fame lounge for a three-course dinner and the live auction program. During the live auction, attendees bid on signed jerseys and helmets of the players in attendance and football tosses from Frank and quarterback, Jared Goff. There were also some once-in-a-lifetime experiences that sold, including Top Golf with Frank & friends, Frank's Donut Delivery, and Florida Fishing with Frank.